August 2018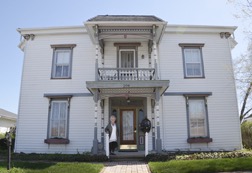 By Elizabeth Hey


The Victorian-style Hilty Inn sits at the edge of Versailles' town square. Gingerbread detail on the front porch and a two-story screened veranda in back give this bed and breakfast a homey appeal.


My husband and I were warmly greeted by energetic Doris Hilty who grew up in this Ozark town. After living in California and Kansas City for 30 years, she returned to be nearer to family. Her sister took piano lessons at the home and, when it went up for sale, her sister wanted to see it again. Doris came with her.

"As I was walking through the house, I knew that it would make a wonderful bed and breakfast," says Doris. "After I moved in, I decorated with French country flair and used a lot of blue and white, my favorite color combination."

Built in 1877, ornate, white woodwork and original wide pine floors grace most of the house. Flanking the front hall, the cozy parlor and dining room are available as common areas for guests. The second floor Thornleigh room, named for Thornleigh Lumpee of the inn's first family, has a king-size bed and private bathroom across the hall. Three additional guest rooms include private baths and direct access to the upstairs veranda. An upstairs sitting room can be rented as a suite with the adjacent Alice or June rooms.

Doris enjoys whipping up savory or sweet breakfasts from recipes that she's collected over the years. Guests who prefer sweet dishes enjoy baked French toast with sausage in the blue and white dining room. Her repertoire of savory dishes includes omelets, quiches or frittatas with fried potatoes and bacon. For honeymooners, she can deliver breakfast to the room.

Guests can walk to the Bee's Knees Ale House (Summer 2018) where unique craft brews and casual food are popular. On C Highway, and in nearby Tipton, Mennonite markets sell bulk food and plants. Nearby Jacob's Cave offers year-round tours, and Lake of the Ozarks lies ten minutes south on Highway 5.

Doris welcomes guests who stay for a getaway weekend as well as business travelers. She enjoys cooking and hosting lunches, business meetings, showers, small weddings, rehearsal or wedding dinners and family reunions. The inn accommodates seating for 25 in the parlor and dining room and 45 people in the outside courtyard. Several couples have held their wedding ceremony next door in tiny Memorial Park's gazebo followed by a reception at the inn.

Visit
HiltyInnBedandBreakfast.com
for more information.
February 2018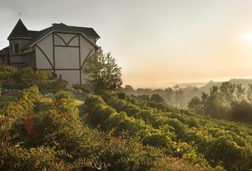 By Elizabeth Hey
From the moment we curved up the hillside driveway to Hermann Hill Vineyard Inn, we knew that this bed and breakfast competes with the best. The expansive eight-room inn sits above the terraced vineyard and, further below, the historic German town of Hermann that snugs up to the Missouri River like a postcard waiting to be sent. Every room showcases the view.
Guests can also choose the private River Bluff Cottages, where my husband and I stayed. Perched directly above the river, they lack for nothing with full kitchens, fireplaces, heated floors and spacious decks with hot tubs and grills. In either location, service is delivered with flourish by the inn's 30 employees.
Celebrating 24 years as owners, Terry and Peggy Hammer have thought of absolutely everything. Numerous room amenities, some based on guest surveys, include king beds with three pillow types, steam showers, hot tubs, jetted tubs, flat screens with DVD players, binoculars for eagle watching, constellation maps and more. After check-in, we were offered the daily soup that was available all afternoon, plus champagne, a cocktail from the margarita machine and assorted beverages.
"It's all about couples here, and we're obsessive about the details," says Terry.
Delivered to guest rooms between 9:30 and 10 p.m. each evening, vanilla ice cream and the inn's signature port chocolate raspberry sauce crafted from Hermann's Norton grapes accompanies heart-shaped shortbread chocolate chip or white chocolate chip cookies. In the cottages, the full-size kitchens stock this evening treat, plus milk for homemade granola, waffle mix, hot cocoa, tea, coffee beans and a grinder.
Guests can have breakfast delivered to their room. Six entrée options, chosen by email prior to arrival, can be toasted with a complimentary bloody Mary or mimosa. At the cottages, delivery came via a tiffin—stacked metal compartments clipped together that kept everything piping hot. Each month, a breakfast side dish features a different fruit or ingredient, such as blueberries or asparagus, alongside three printed recipes to take home.
Activities range from two scavenger hunts that include tasting coupons and the chance to earn a gift certificate by taking selfies at each stop, spa treatments, biking the Katy Trail and a three-mile historic town walk with guide book. A short walk delivered us to Stone Hill Winery, one of the area's many award-winning vineyards, which offers tours and tastings.
Couples staying two nights receive a picnic lunch, checked tablecloth and $10 in Hermann bucks, redeemable at merchants and wineries. And for those looking to get married in wine country, Hermann Hill's wedding coordinators can plan an outdoor wedding for up to 350 guests on the bluff overlooking the river or in the 300-seat chapel with a reception afterward.
Visit
HermannHill.com
for more information.