August 2017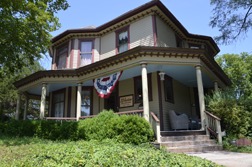 A world away but only 30 minutes from downtown Kansas City, the Weston Bed and Breakfast makes a welcome getaway.
Weston has become an artists' haven where tree-shaded streets lead to a main thoroughfare lined with boutiques, galleries and several top-notch restaurants. Add to that several wineries and the Holladay Distillery tour, and there's plenty to do in this charming river town.
Dick and Dotty Emery, both chiropractors by profession, bought the Victorian-era grand dame when they were living closer to Kansas City proper. Dotty had inherited antique furniture from her parents, which had been in storage for many years. It was time to sell or use it; the Emery's chose the former. Today, Dotty's favorite piece is a marble-topped light oak sideboard in the dining room.
"Our previous home was furnished Southwest-style, so we sold it all and bought this rather neglected 1895 house that would look great with our antiques," says Dotty.
Renovations began immediately, which included refinishing the original pine floors found under the green, shag carpet. The house contained original hardwood trim and beveled glass windows.
In 2005, the Emery's opened the bed and breakfast with two upstairs rooms. Eventually, they added a third room called the Celebration Suite. It's often reserved for special occasions. A private porch overlooks the yard, and the faux-painted barrel ceiling and bathtub alcove are truly unique.
"Initially we'd only planned to have the alcove faux-painted," says Dotty, "But the artist kept going, and, before we knew it, she was balancing on a board between the beams while painting the ceiling and faux pillars."
The two-bedroom cottage next door was acquired by surprise when the Emery's neighbor passed away and left the bungalow to them. Dotty enjoys flower gardening and, in season, brings blooms into the house and cottage.
In the mornings, coffee and tea, plus scrumptious cinnamon crispies from a secret recipe are served at 7 a.m. in the downstairs parlor. A three-course breakfast is served at 9 a.m. in the dining room or on the deck in nice weather. Recipes often come from local ladies who occasionally stop by with a new dish.
When my friend, Diane, and I visited for a girlfriend getaway, the main course was a sausage scramble, tossed red onions and halved grapes alongside scrambled eggs and mini hash brown casseroles.
After breakfast, we walked downtown for more shopping before heading back home. Just a note, do check store hours online, because many businesses are closed Mondays and Tuesdays.
Visit
WestonBedAndBreakfast.com
for more information.
May 2017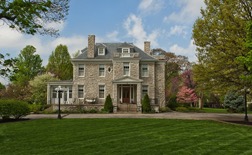 Beautifully constructed of Missouri limestone, Hawthorn Bed and Breakfast sits regally on two acres located near historic Independence Square. It's an easy ten-minute drive to downtown Kansas City and Kaufmann and Arrowhead Stadiums.
Owners Jim and Wendy Allen warmly greeted my husband and I upon check-in and showed us around the 8,500-square-foot mansion.
Built in 1900 by John A. Gallagher as the family's country home, it features hand-painted murals in the music room and two staircases—one for the family and the other for servants. The original ten-acre estate included a barn, pastures, livestock and numerous Hawthorn trees that inspired its name. The Gallaghers raised four children here, and Florence held socials for notable Independence women's groups. After John's death in 1923, she sold the property. Eventually, the mansion was used by the Westminster Presbyterian Church for 40 years.
After a restoration in 2000, Hawthorn opened as a bed and breakfast. Period furnishings, wicker on the cheery sunroom and wrought iron on the front terrace completed the renovation. Rooms were named in recognition of past owners.
In 2006, the Allens purchased Hawthorn. As avid travelers, they had stayed at B&Bs across the U.S and Europe. They added a $250 million expansion with a professional kitchen and owner's quarters in order to "totally surrender the mansion to our guests." The third floor Bibler Suite, their former living quarters, still contains personal items such as Jim's father's favorite chair.
"While we raised our children, I worked in human resources for 30 years. But I'd always wanted to run my own business," says Jim. "It was Wendy's desire to own an older home, so we fulfilled both of our dreams when we acquired Hawthorn."
Wendy lends her green thumb and creativity to the lovely landscaping and the many events held on site. Jim happily relies on his hotel and restaurant management background and passion for cooking that began as a boy when he learned to cook alongside his mother.
For breakfast, small tables in the dining room and sunroom offer privacy and individual service. Jim's three-course breakfast starts with a choice of six juices and seasonal fresh fruit topped with yogurt and granola. Next, the couple serves Jim's raspberry muffins—a closely guarded secret recipe. Entrées change daily and, during our stay, cheese and sautéed vegetable omelets came with sausage and Jim's seasoned potatoes like his mother cooked on the farm.
Guests often return several times throughout the year for Royals and Chief's games and other happenings. Hawthorn hosts about two dozen weddings annually, plus parties, teas and numerous luncheons and dinners for up to 40 people. At the holidays, Wendy lavishly decorates the house and guest rooms, including 18 Christmas trees, a nod to her New England roots.
Visit
HawthornBB.com
for more information.
February 2017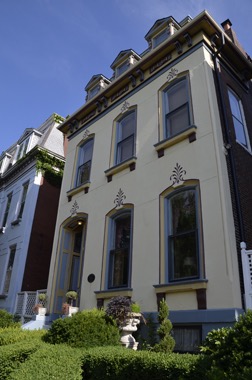 Minutes from the St. Louis Arch, Napoleon's Retreat offers the perfect getaway in the National Historic District of Lafayette.

Just down the street, picturesque Lafayette Park is surrounded on all four sides by the nation's largest collection of Victorian-era homes. The park's tall, black iron fence and surrounding painted ladies, is reminiscent of a scene straight out of Mary Poppins.

Within three blocks of the bed and breakfast, guests can choose from eight restaurants. Square One microbrewery sports a lovely, outdoor patio. Upscale 1111 Mississippi makes the perfect choice for special occasions. And Bailey's Chocolate Bar has been rated one of the nation's top ten dessert places by USA Today.

Owners Brian and Stacy Kistler bought the home in 2011 after relocating from Wisconsin ten years ago for Brian's engineering job. When they were ready to buy, Stacy was driving to a business lunch and saw the "For Sale" sign in the yard. That evening, she talked to Brian about purchasing the property.

"Our first bed and breakfast experience was on our honeymoon in Ireland, and we loved it and talked about eventually owning one," says Stacy, a former contract negotiator for consumer products. "Ironically, six years before we bought the inn, we actually stayed here in the Napoleon room for a week while we explored St. Louis."

As the third owners, the Kistlers have remodeled most of this 1880s home. Sumptuous period furniture and antiques, high-quality linens and ultra-modern bathrooms make it a show-stopper. Among the contemporary conveniences added were flat screen televisions, on-demand cable and high-speed wireless internet.

Upon arrival, guests can enjoy complimentary, local beer on tap. In the morning, breakfast becomes a gourmet adventure. Stacey constantly looks for innovative recipes and buys her spices at the Soulard Farmers Market. She served my husband and I an egg roulade (egg roll up) filled with oven roasted tomatoes, bacon and gruyere cheese—so savory and beautifully presented that I asked for the recipe and served it this past Christmas morning. The accompanying chocolate strawberry shortcake also looked straight out of a photo shoot. Fresh fruit, juices, house-blend coffee and an assortment of teas are standard. Special dietary needs can be accommodated with 72-hours notice.

For additional pampering, Napoleon's Retreat partners with MorganFord Salon & Spa to offer in-room massages. Stacy can arrange for a "welcome" bottle of wine or champagne, even a cupcake bouquet. For that ultimate celebration, a dozen roses, chilled champagne and chocolate truffles can be waiting in the room for $99.

"I remember the notable bed and breakfasts that we've stayed in, down to the details of what we ate," says Stacy. "And I want Napoleon's Retreat to be equally memorable to our guests."

Visit
NapleonsRetreat.com
for more information.