Hermann Hill Vineyard Inn
February 2018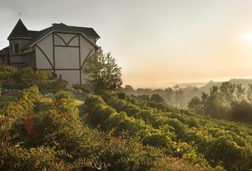 By Elizabeth Hey
From the moment we curved up the hillside driveway to Hermann Hill Vineyard Inn, we knew that this bed and breakfast competes with the best. The expansive eight-room inn sits above the terraced vineyard and, further below, the historic German town of Hermann that snugs up to the Missouri River like a postcard waiting to be sent. Every room showcases the view.
Guests can also choose the private River Bluff Cottages, where my husband and I stayed. Perched directly above the river, they lack for nothing with full kitchens, fireplaces, heated floors and spacious decks with hot tubs and grills. In either location, service is delivered with flourish by the inn's 30 employees.
Celebrating 24 years as owners, Terry and Peggy Hammer have thought of absolutely everything. Numerous room amenities, some based on guest surveys, include king beds with three pillow types, steam showers, hot tubs, jetted tubs, flat screens with DVD players, binoculars for eagle watching, constellation maps and more. After check-in, we were offered the daily soup that was available all afternoon, plus champagne, a cocktail from the margarita machine and assorted beverages.
"It's all about couples here, and we're obsessive about the details," says Terry.
Delivered to guest rooms between 9:30 and 10 p.m. each evening, vanilla ice cream and the inn's signature port chocolate raspberry sauce crafted from Hermann's Norton grapes accompanies heart-shaped shortbread chocolate chip or white chocolate chip cookies. In the cottages, the full-size kitchens stock this evening treat, plus milk for homemade granola, waffle mix, hot cocoa, tea, coffee beans and a grinder.
Guests can have breakfast delivered to their room. Six entrée options, chosen by email prior to arrival, can be toasted with a complimentary bloody Mary or mimosa. At the cottages, delivery came via a tiffin—stacked metal compartments clipped together that kept everything piping hot. Each month, a breakfast side dish features a different fruit or ingredient, such as blueberries or asparagus, alongside three printed recipes to take home.
Activities range from two scavenger hunts that include tasting coupons and the chance to earn a gift certificate by taking selfies at each stop, spa treatments, biking the Katy Trail and a three-mile historic town walk with guide book. A short walk delivered us to Stone Hill Winery, one of the area's many award-winning vineyards, which offers tours and tastings.
Couples staying two nights receive a picnic lunch, checked tablecloth and $10 in Hermann bucks, redeemable at merchants and wineries. And for those looking to get married in wine country, Hermann Hill's wedding coordinators can plan an outdoor wedding for up to 350 guests on the bluff overlooking the river or in the 300-seat chapel with a reception afterward.
Visit
HermannHill.com
for more information.