November 2015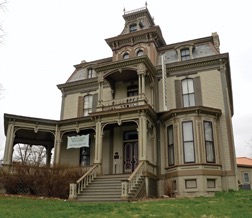 Garth Woodside Mansion still retains the glory from when Hannibal's most famous resident, Samuel Clemens (aka Mark Twain) used it as his getaway. In fact, this Victorian beauty was Clemens' oasis whenever he returned home.
In 1902, Clemens gifted the widow of his long-time friend, John Garth, with a personal photograph that hangs in the stairway. His handwritten inscription reads: "In reverent memory of John Garth, an unbroken friendship for 55 years." The mansion has another claim to fame: a Disney designer actually used the house as inspiration for the Disneyland Paris Haunted Mansion.
Today, the hilltop bed and breakfast is surrounded by 36 acres. Owners John and Julie Rolsen purchased the home in 1999, and with the help of a historic curator, they brought the home back to its 1870s splendor.
Wallpaper was reprinted from original plates in North Carolina; the dining room paper ran through the presses 14 times, one pass for each color. Woodwork has the 1870s walnut faux finish. Oriental carpets cover original walnut plank floors. The parlor's walnut Eastlake chairs, used by Clemens and the Garths, sit by the fireplace. In the music room, guests can play an 1869 square grand Steinway piano made of rosewood.
Guests can choose from eleven rooms, including three cottages. On the mansion's second floor, Samuel Clemens' room boasts its original furnishings. Rooms offer updated bathrooms, and most have gas fireplaces.
"The first time people come to Hannibal, they visit the Mark Twain attractions in town," says Julie. "On their second visit, guests enjoy the Garth for relaxing, connecting and our complimentary wine, gin and vodka tastings."
An expansive dining addition, painted cherry red with white woodwork, serves as a backdrop to the gardens and rolling hills. Julie enjoys cooking and accommodates vegetarians and those with food allergies. Repeat guests often grill out for dinner. Outside, all who visit can feed the llamas in the back pasture, walk short trails and enjoy the porches and patio. Down the road, a stable offers horseback riding.
"I'm always digging up bulbs and giving them to our guests to take home and plant," says Julie. "To get bulbs from a friend is much more special."
Julie hosts an annual bridal fair the Saturday after Valentine's Day, the next one scheduled for February 21. The new pavilion seats 200 for dinner and includes a dance floor. The gazebo is popular for weddings. Flowers grown on property are used in bouquets, and a local deejay, photographer and baker are all on hand.
When people ask, "What's the best time of year to get married at the mansion?" Julie's reply is, "What's your favorite flower? The perfect time will be when it's blooming in my garden!"