November 2014
by Elizabeth Hey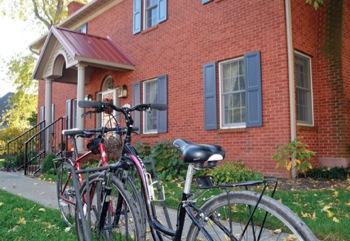 Yates House owners Conrad and Dixie Yates pay attention to every tiny detail, which has put them in good company on the Select Registry of Distinguished Inns of North America.
Amenities such as silky 600-thread count bed linens, Bain air-jetted tubs, Dixie's freshly baked cookies waiting in the pristine guest kitchen and gourmet breakfasts translate into a practically perfect stay.
The B&B's two houses sit side-by-side on the old Boone's Lick Road, which served as the route West during the Gold Rush era. The main house is a reproduction 1850 roadside inn with modern luxuries in its three bedrooms. Built by the Yates in 1991, Conrad and Dixie moved to Rocheport while their girls attended Mizzou. As the Katy Trail developed, there was a need for more lodging. For the first seven years, the Yates opened their main house on weekends only. In 1999, they purchased the adjacent 1840 Garden House and became a full-time six-room inn.
"At that point, I decided I'd rather be an innkeeper than an RN," says Dixie. "We truly enjoy interacting with our guests, although we see our role as more of a concierge. People need to have comforts at hand without having to ask."
Guests eat breakfast in the Garden House's sunroom addition, and Dixie cooks in a commercial kitchen. Out back, perennial gardens edge brick patios with plenty of seating. Lavender, black-eyed Susans, a rainbow of lilies and dahlias, mums and a profusion of herbs bloom from early spring through fall. Down the hill, Conrad's prize chickens and boisterous rooster are fun to watch in their backyard run.
According to the Yates, approximately 60 percent of their guests return for additional stays. Guests bring or rent bikes to ride the Katy Trail, which is visible from the patios. Besides cycling, they relax and enjoy terrific dining at Abigail's, the Blufftop Bistro at Les Bourgeois Vineyards, or in nearby Columbia.
Dixie takes pride in her breakfasts, which have received several awards and rival most brunches. The first course starts with fruit and a bread dish, such as her signature Crème Brule French toast. The second course usually offers a quiche or frittata, potatoes, meat and sometimes a salad. Dixie incorporates her garden produce, sourcing the rest locally. Monday nights, she serves dinner to guests. Most recipes can be found in the Yates House Favorites cookbook. Catered luncheons, dinners and day retreats for businesses and churches are popular too.