July 2019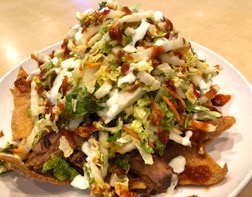 Tucked into a strip center in Smithville, 30 minutes north of downtown Kansas City, KoZak's from-scratch American kitchen has garnered a large and loyal following. So loyal that fans wait for lunch and dinner specials to post daily on Instagram and Facebook. Chiefs and Royals players count as fans, too, because KoZak's caters their inflight and pre-departure meals, as well as those of visiting professional teams.


"Many of our daily specials have close to 2,000 views, and, if we don't post, people call us," says Jacquie Hove who owns KoZak's with her husband and executive chef, Brian.
Inspiration for the restaurant and its name came from the couple's sons, Kobe and Zach. Brian, a long-time Marriott chef, left the corporate world in 2012 to improve their family's quality of life. Neither he nor Jacquie have looked back.

The Hoves remain community-minded. Produce is sourced from area farms. The evening my husband and I dined, a farmer stopped in with baskets of plump, green tomatoes. Paradise Locker Meats supplies beef and pork; leftover steak and salmon trimmings are donated to a Smithville animal sanctuary. Several wines originate from nearby Ladoga Ridge Winery. Among the craft cocktails and 23 beers on tap, Yankee Smith Ale was created exclusively for KoZak's by Levi Garrison and Sons in Hamilton.

Appetizers include the signature Asian BBQ pulled pork nachos drizzled with wasabi cream and siracha, developed for a 2013 competition. Mouthwatering fried green tomatoes come pooled with tabasco pimento sauce. One regular told me she always orders them.
"People want comfort food with a creative flair," says Brian, who explains that many of his dishes were influenced from menus he developed for Marriott.

Entrees include a mini cast-iron skillet of tender cornbread, dolloped with house honey butter. Mediterranean salmon salad tossed with house lemon basil vinaigrette remains extremely popular, as do steaks, Cajun pasta and burgers. Hearty Kansas City steak soup has chunks of meat and veggies. The well-rounded kid's menu offers smaller portions of salmon and steak.

Loyalty extends to pastry chef "Sam" whose four or five daily desserts include a signature gooey butter cake, chocolate cake with peanut butter icing and apple crumble pie.
In addition, KoZak's will cater, and banquets for up to 90 people can be arranged.

Visit
KoZaksLaketownGrill.com
for more information.