August 2017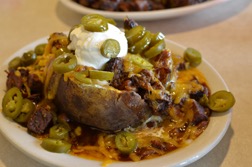 Barbeque is certainly king at Buzz's BBQ and Steakhouse, where customers have been coming back for more since 1999.
Filled with comfy booths under pendant lighting, this popular spot usually has a wait on most weekend nights. Throughout the restaurant, owner Jim Buzzard's memorabilia—fishing, baseball, vinyl records and dirt-track racing—takes patrons down memory lane.
Jim and his wife, Mary, started their culinary journey in Walker, Missouri, several miles east of Nevada. At the time, Jim was building high-performance racing engines for a living. Jim dabbled in barbeque while at the races and started smoking ribs near his mechanic shop. His hobby turned into Buzz's Mini Market and Deli. Eventually, they added a dining room, and people came from every state.
After 2006, the restaurant moved to Nevada. Its current and third location—bigger each time—conveniently sits directly off Highway 49 at Camp Clark exit 101. Three years ago, their daughter, Amy, and her military-career husband moved to town so that she could help with the ever-growing business.
Meats, smoked out back for hours using a secret blend of wood, are seasoned with a house-blended dry rub. Signature smoked pork ribs, made fresh daily in time for the lunch crowd, literally, fall off the bone. Savory brisket is slow-smoked overnight and cut on the thicker side. Delicious burnt-ends are caramelized with just the right amount of tenderness. And the smoked half-chicken quickly became one of my favorites. Sauces aren't made in house, but that's easily forgiven with the quality of meats. Other top picks include fried catfish, steaks, burgers and salads topped with smoked meats.
The "sleeper" on the menu became evident when the waiter brought out the Betty Baked Potato, named after a customer in Walker who routinely ordered the combination. Word got around, and it soon became a menu staple. What's not to love? It's a massive potato crowned with brisket (ham or pulled pork), barbecue baked beans, onions, jalapenos (optional for a less spicy dish), butter and sour cream on the side. At $10.99, this bargain makes tasty leftovers for those who can't finish. And if you're in the mood for fries instead, Betty Fries are topped with the same ingredients.
Sides include fried green beans with chipotle ranch dipping sauce, grilled veggie skewers, spicy corn-battered corn bites (somewhat like a hush puppy), breaded mushrooms, onion rings or fries. Barbecue beans combine chunks of burnt ends in a thick sauce. And unusual smoked cabbage is cooked with seasoned butter and served with cheddar cheese.
Carry-out and catering remains popular year-round. Groups of up to 70 people can choose a buffet or plated meal in the banquet room.
For more information, visit
Facebook.com/BuzzsBbq
.
May 2017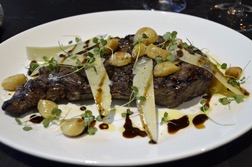 Just steps from Kansas City's Power and Light District, a cozy Italian spot is turning heads and intriguing palates at boutique Hotel Phillips.
Newly opened, Tavernonna Italian Kitchen showcases the inspiration of five-time, James Beard-nominated Chef Michael Kornick of Chicago and Executive Chef Bryant Wigger, who has returned to his Midwestern roots from the West Coast. Wigger spent 16 years working at Four Seasons Beverly Hills and other establishments. He's the linchpin of the stellar menu that serves breakfast, lunch and dinner.
Dinner was an adventurous affair in the sleek dining area surrounded by floor-to-ceiling windows. Classic Italian dishes delivered traditional comfort with noteworthy embellishments. Ingredients from local purveyors included Farm to Market Bread Company, fresh greens grown hydroponically at Missing Ingredient, an urban farm in the Crossroads, and beef from Hatfield Ranch near Marysville. However, the extensive wine list hails primarily from Italy and California.
"Recipes are traditional but with a twist to surprise our diners," says Chef Wigger. "Plus, we make our own pastas, sauces and ricotta."
Mouthwatering starters included bruschetta topped with fresh mozzarella, thyme-roasted mushrooms and drizzled with 12-year aged balsamic. Farm to Market rosemary bread came with lemon ricotta, quince marmalade and a sprinkle of sea salt. Baseball-sized Nonna's meatballs are 100 percent ground brisket presented on a pool of freshly made Pomodoro sauce.
Pasta spanned the gamut. Baked ziti al forno with house-made spicy lamb sausage, pecorino Romano and arugula pesto quickly became a table favorite. Spaghetti cacao e pepe featured scratch noodles subtly flavored with black pepper, sprinkled with pecorino cheese and served with a poached egg on top. Hearty rigatoni incorporated bite-size chunks of braised beef.
Absolutely outstanding, the grass-fed, Hatfield Ranch 17-ounce ribeye will hold its own with any steak in the city. Grilled to perfection with shaved parmesan and drizzled balsamic, the steak accompanied roasted whole garlic and rosemary fingerling potatoes. Worth every penny of the $49 price tag and generous enough for two. On the opposite end of the food chain, the whole Branzino, Mediterranean sea bass, flown in from Greece, came artfully plated with caramelized fennel and capers in a luscious, brown butter sauce.
To finish we chose, creamy gelato and sorbetto from local Glacé. For summer desserts, Chef is adding a moist olive oil cake filled with a slightly tart rhubarb compote alongside strawberry gelato.
After dinner, stroll through the Art Deco lobby with its green velvet couches, elaborate bronze and nickel metalwork, walnut paneling and stylish light fixtures. The grand staircase boasts the eleven-foot Goddess of Dawn, created in 1931 by Kansas City sculptor Jorgen Dreyer. On the National Register of Historic Places, the recent $20 million renovation combines 1930's elegance and design with modern amenities in the 216 guest rooms and public areas.
Don't miss the unassuming doorway to the right of the lobby's registration desk. Tucked away downstairs in a long-forgotten mail sorting room, P.S. Speakeasy is another 1930s incarnation. Plush seating and a cozy ambiance make the perfect spot to linger with a craft cocktail.
Valet hotel parking is complimentary for diners.
Visit
HotelPhillips.com/tavernonna
for more information.
February 2017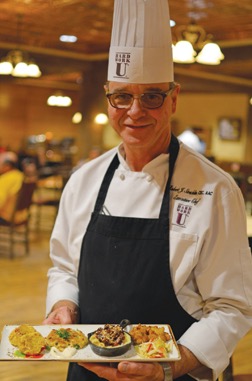 Farm-to-table is the gold standard at Dobyns Dining Room.

The stellar Sunday brunch features ice carvings and live music. Lunch and dinner in the 290-seat dining room remain busy year-round. Thanksgiving brunch reservations open August 1; last year, it sold out in three days.

Why all the buzz? Housed in The Keeter Center, reminiscent of the State of Maine lodge at the 1904 World's Fair, Dobyns serves regional fare on the College of the Ozarks campus, ten minutes south of downtown Branson. Much of the food is grown or raised on property, and the college's philosophy involves students every step of the way.

Smoked bacon and pork loin come from the campus-run hog farm and processing plant. Pastas, jellies and jams are prepared in-house. Vegetables are picked garden-fresh. Flour, ground by students at the on-site grist mill, is kneaded into fluffy, whole wheat yeast rolls. Products from the campus dairy herd include custom ice cream flavors dreamed up by students.

It all happens under the leadership of Executive Chef Robert Stricklin, who worked in four and five-star restaurants around the world before he helped develop the certified culinary arts program. The college believes in giving young adults who can't afford a degree the opportunity to graduate debt-free by working 15 hours per week at 100 campus stations. Approximately 110 students work in the kitchen alongside professional chefs. Students also wait tables. More than 90 percent of the menu is created from scratch.

On a Saturday night with live piano music in the background, my husband and I started with appetizers: tasty fried green tomatoes breaded with campus cornmeal and topped with house jalapeno jelly, pan-seared hickory-smoked catfish cakes served with slaw and a delightful tomato tartar sauce and corn fritters. My salad came with creamy house-made Ricotta cheese and pear-honey dressing. The outstanding signature, smoked tomato soup, was served with a dollop of whipped pesto cream and cornbread biscotti, winner of a student competition. Warm cranberry-cinnamon biscuits and yeast rolls accompanied apple butter in a mini iron skillet.

My pork pomodoro entrée featured campus-made products: tender pork medallions basted with pesto, garden tomatoes and roasted garlic over cornmeal polenta. My husband opted for satisfying pot roast served with mashed potatoes, rich brown gravy and vegetables. We sampled the to-die-for barbecue mac, homemade elbow noodles drenched in smoked Gouda cheese sauce with chunks of hickory-smoked pulled pork and caramelized topping.

A cake devotee, I couldn't resist the massive slice of ten-layer chocolate cake filled with chocolate ganache and garnished with fresh whipped cream and raspberry sauce. It's enough for four, and its leftovers enticed us to return for lunch before heading home from our Branson weekend.

Visit
KeeterCenter.edu
f
or more information.