November 2016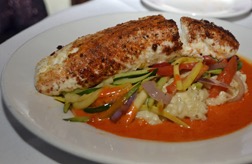 For those who appreciate great cuisine, top-notch service and a lovely setting, Piropos delivers—delightfully.

Serving authentic Argentinean fare, it boasts a bird's-eye view of the Kansas City skyline. Its moniker is a nod to the Latin tradition of a "piropo," a poetic or flirtatious compliment to a woman. There's even a monthly piropo contest with dinner for two as the prize.

Strongly influenced by Europe, Argentina's cuisine merges the flavors of Spain, Italy, France and other ethnicities. The result? Simple and savory, without being overly spicy. Piropos' menu specializes in excellent cuts of meat, seafood flown in by charter plane, lamb, pork and pasta. From start to finish, items are created in-house: a trio of dips made daily accompany the bread service, empanadas, soups and sauces and luscious desserts. The 300-plus wine list hails primarily from South America. Argentinian cheeses, salt and spices are air-shipped bi-monthly.

As longtime Parkville residents and entrepreneurs, Gary and Cristina Worden had a vision to bring the tastes of Cristina's homeland to the Midwest. Married nearly 28 years, Cristina remarked that Gary loved the way she cooked and asked if she could design a restaurant menu. A chef-friend and restauranteur in Miami looked it over and gave the thumbs up.

With that confirmation, the original Parkville location opened in 2001 on a hillside where the Wordens had enjoyed impromptu picnics or a bottle of wine. In 2005, Piropos moved to its current location and added event space for up to 140 diners plus a wedding chapel. Throughout the years, traditions of Cristina's upbringing have inspired the menu.

"Many recipes come from my mother, or I work with our chef to create authentic dishes," says Cristina.

On a Saturday night, the restaurant buzzed with conversation and the clinking of wine glasses. My husband and I started with bread and dipping sauces: chimichurri, garlic aioli and fresh pepper relish. Empanadas were a must; doughy pockets stuffed with three cheeses, chicken with roasted peppers and seasoned beef tenderloin. The velvety Argentinean-style crab bisque and savory mushroom soup were first-rate. Appetizers included perfectly-seared, jumbo scallops wrapped in Applewood-smoked bacon over corn relish and brie en croute drizzled with apricot aji molido (Argentinean ground red pepper) preserves and honey balsamic reduction.

Entrees came beautifully plated with generous portions and exceptional sauces. The signature peppercorn-encrusted filet in brandy cream sauce was accompanied by au gratin potatoes and sautéed mushrooms. Pan-seared wild Alaskan halibut with julienne vegetables in a roasted red pepper sauce topped oh-so-creamy lobster risotto. Sweet tooths, like me, ogle at the dessert selection, all made in-house. The banana cake layered with whipped cream cheese icing on a pool of crème anglaise and raspberry sauce is so popular that customers order it in sheet cakes for parties and luncheons.