November 2014
by Elizabeth Hey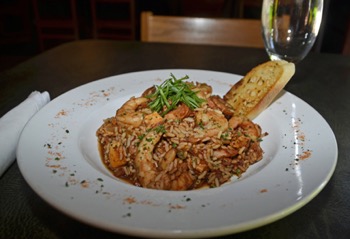 Ask most locals where to eat in Fayette, and they will direct you to Emmet's Kitchen and Tap. Housed in late-1800s storefronts on the city's town square, it is directly across from the picturesque county court house.
Owner Rob Schluckebier named the restaurant in honor of his grandfather. Black and white photos of Grandfather Emmet hang in the bar/dining area that still retains part of the original soda fountain. Antique tin ceilings grace the main dining room, while dark hardwood floors and maple wainscoting yield a cozy ambiance.
Rob and his wife, Cynthia, offer a menu that ranges from sandwiches and salads to pastas and shrimp. Rob's years of training in New Orleans are evident with a quick look at the offerings.
"I have a Mason-Dixon style of cooking," says Rob. "I bounce from southern to midwestern cuisine. I use the best quality ingredients and keep it simple."
Early on, cooking became a passion and hobby for Rob, who grew up in nearby Salisbury. In high school, he and his friends held parties that centered on cooking and eating. As a University of West Florida student in Pensacola, Rob became a line cook in an upscale restaurant. For two summers, he apprenticed in New Orleans and worked briefly at Emeril Lagasse's first restaurant. Eventually, he studied at the Cooking and Hospitality Institute of Chicago before returning to Fayette. Rob opened Emmet's in 2003 and met Cynthia soon after.
Rob has developed his own version of Cajun spice dust that he uses to flavor his dishes. He sells it alongside several other sauces that he has created. He also buys his andouille sausage from Lake Charles, Louisiana.
"Cajun creole cooking isn't about the heat. That's a misnomer," says Rob. "It's about flavor."
For lunch, I ordered the tasty jambalaya, a chicken and shrimp entrée with tomatoes, peppers, onions, andouille sausage, tasso ham—a cajun cured variety—and rice. I also opted for the grilled chicken Caesar salad. I'd heard rave reviews about the chicken—seasoned in Rob's spice—and the house dressing.
My husband ordered chicken and andouille gumbo, a northern-style gumbo with a satisfying rich, slightly thick and savory base. We also tried the popular sweet potato stix, first blanched and then fried in a two-step cooking process to make them crispy. Rolled in brown and light sugars, Rob's spice and some extra spices, they are seriously addictive. Also popular are Emmet's pasta and beef tenderloin entrées.
During homecoming in the fall, Emmet's hosts the Schlucke Bier street festival. After a morning parade where Bloody Marys are served starting at 9 a.m., the street is blocked off in front of the restaurant. Under an enclosed tent, an "all-you-can-devour-Cajun buffet" and live music celebrate the season.