November 2015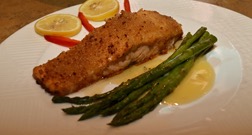 Owned and operated by three University of Missouri grads, Sophia's restaurant was on my short list to try. The partners' first restaurant, Addison's, serves customers in downtown. More than a decade ago, Sophia's opened as their second successful foray into the Columbia food scene.
On a girl's getaway weekend, my friend Diane and I dined at this popular south-side spot. The locally-sourced menu revolves around Italian cuisine but diverges into interesting, and memorable, twists on southern European dishes—namely Spanish tapas and Moroccan and Mediterranean fare.
"Our executive chef, Jeremy, has a culinary background and hospitality degree from MU," says co-owner Matt Jenne. "His passion for food remains the impetus behind our menus."
Sophia's Tuscan ambience emanates from its warm color palette, but the restaurant's most notable feature is its mythological murals that decorate the ceilings and walls. The paintings are by local artist, friend and associate professor at MU, David Spear. His style is akin to Thomas Hart Benton with depictions of the Midwest.
Much of Sophia's menu is created in-house including mozzarella for the Caprese antipasti, the marinara and all the sauces. Matt said that they've gained a reputation for Sophia's Italian Nachos, deservedly so—fried sheets of pasta chips (much like a wonton) piled high with Asiago cheese, marinara, roasted red peppers, scallions, black olives and chicken. The beautifully plated, sushi grade Ahi Tuna tapa was served on wonton crisps and topped with wasabi vegetable slaw, sweet soy reduction and sriracha aioli. And we almost licked the plate of the Filet Porto tapa: bite-sized beef tenderloin slices, properly grilled medium-rare, crowned with bleu cheese and port wine reduction.
For entrees, recommended Chicken Mudega was served lightly breaded and capped with provolone, sautéed mushrooms, prosciutto and a lovely tarragon cream sauce served over angel hair pasta. The wild-caught Horseradish Encrusted Salmon sounded intriguing, and Matt assured me that once customers try the dish, they order it again and again. The baked horseradish crust drizzled with horseradish honey sauce made a loyal follower out of me. The Mediterranean Chicken Pasta showcased a creamy, pesto Asiago sauce. Paired wines can be ordered by the glass or by the bottle from approximately 30 labels.
For dessert, we split the house-made Almond Brownie Fudge Pudding—brownies and toasted almonds baked in a white chocolate custard and topped with crème anglaise. Big enough to share, it was the perfect finale to an excellent meal.