October/10/2013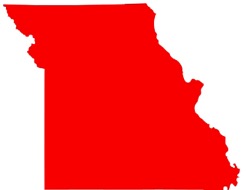 Ever wonder how Missouri's boundaries were decided—particularly why the Bootheel was formed? The story of the inclusion of Missouri's southeastern-most section—the sliver of land that dips into Arkansas—could quite possibly be one of the first accounts of political special interest.


When tragedy struck the area on Dec 16, 1811, the devastation along the New Madrid Fault Line continued for months. The earth moved in waves, trees fell, great chasms swallowed whole buildings and the Mississippi River ran backwards. A mass exodus ensued, and all but two families fled the area. John Hardeman Walker was 17 years old when the great earthquake struck, and after the ground had settled, he laid claim to the swamplands and set about collecting all the loose livestock that had been abandoned by the fleeing settlers.

When Missouri applied for statehood a decade later, the southern boundary excluded all of Walker's land. The Caruthersville businessman, who by that time had become quite wealthy from his "acquisition" of land and livestock, was not happy with the decision that would put his land and that of many others in the southern Indian territory. Walker realized his taxes would be higher if his lands were included in the new state, but he reasoned it would be far better to fall under the protection of the U.S. government.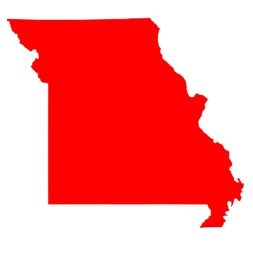 Requesting a hearing before the Congressional survey committee, Walker argued that while his land intruded into the unorganized territory (later to become Arkansas) it had been settled and developed by Missourians and that it should be part of the proposed new state. Instead of a straight line 36 degrees, 30 minutes north latitude, Walker proposed the line drop to the 36th degree parallel from the St. Francis River to the Mississippi River before moving back to the 36th degree, 30 minute parallel in the middle of the Mississippi's channel. The boundary change placed what would eventually become Pemiscot and Dunklin Counties in the state of Missouri.

Walker's grave can be found next to Eastwood Memorial United Methodist Church in Caruthersville.
June/06/2013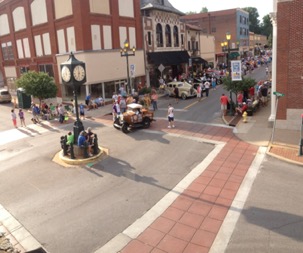 The Great Race sped into Missouri Tuesday afternoon, overnighting in Mark Twain's hometown of Hannibal Tuesday night before heading south for a lunch stop along the Missouri River in Washington. From there, the 99 pre-1969 vehicles continued along the backroads of Missouri, ending the race's fourth stage in Cape Girardeau, where they were cheered on by an estimated 5,000-plus crowd.


As a light rain began Wednesday morning, racers headed toward the Missouri Bootheel, passing through Kennett and across the St. Francis River for a lunch stop in Paragould, Arkansas. Following lunch, racers re-entered Missouri, crossing the Mississippi River Bridge near Caruthersville on their way to Dyersburg and a Stage 5 conclusion in Germantown, Tennessee.


Click here to view more photos of The Great Race.
February/02/2013
by GARY FIGGINS, Editor & Publisher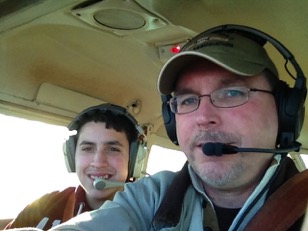 L
iving in Missouri's Gateway to the Gulf Coast—an unofficial moniker I have bestowed upon the Bootheel since the Gulf Coast is actually a closer drive than Kansas City—presents a unique set of travel challenges, most notably the fact that it requires a person to go somewhere else to start the trip. Obviously, operating a state-wide travel magazine from the most remote corner of the state makes travel a daunting necessity.

Last year, I had the brilliant idea—something my wife would say is a rarity—to take flying lessons as a way to decrease the time traveling from Point A to Point B, just so I could start the journey to Point C. It was something that I had always wanted to do, but had never mustered the courage to attempt. It wasn't that I was afraid of flying; I have done aerial photography for more than 20 years. In those cases, I was usually seated in the back of the plane, and, in one instance, I was strapped tight to an outward facing seat as I photographed marijuana plots through the open door of a Huey helicopter on loan to the Missouri Highway Patrol.

No, my trepidation of taking flying lessons had nothing to do with the fear of heights or of flying. It was, instead, due to a fear of failure. I had been in small aircraft enough to know that learning to fly one would be considerably more difficult than learning to drive a stick shift—not to diminish the teaching abilities of John Karnes, my high school buddy whose 1978 Datsun 210 suffered through miles and miles of grinding gears. It took time, but I never doubted I would eventually master the fluid coordination or accelerator, clutch and shifter. Back then, learning to drive a stick shift was a necessity, as luxuries like an automatic transmission, air conditioning, radio, carpet and hubcaps would have made it nearly impossible for me to buy my own car before graduating.

When my son's Boy Scout troop visited the local airport as part of earning the aviation merit badge, I went along at his urging. When the scouts had all completed their required airplane rides, adults were offered a short trip over the town. I climbed into a Piper Warrior owned by a local flight instructor who allowed me to take the controls during takeoff and climb-out. It was the first time that I actually allowed myself to believe that I could learn to pilot a plane on my own.

A friend who was already working toward his private pilot certificate graciously allowed me to ride along during a number of his lessons, which provided me the opportunity to learn various techniques and maneuvers without the fear of falling from 3,000 feet. Nearly three months later, on July 12, I departed Runway 2 in a Cessna 172, the same plane in which my high school friend's dad had taken his first flying lesson nearly 25 years earlier. I suppose it was only fitting that I took my first flying lesson in his hand-me-down plane after learning to drive a stick in his hand-me-down car.

Three weeks later, I soloed, and after six months and 55 hours in the left seat, not to mention countless hours learning about aerodynamics, weather systems, airspace designations and FAA regulations, I took and passed my final checkride, earning my private pilot certificate on January 18.

Appropriately enough, my first official passenger was my son, Matthew, who allowed me to tag along as he worked toward his aviation merit badge almost a year earlier.