September/09/2014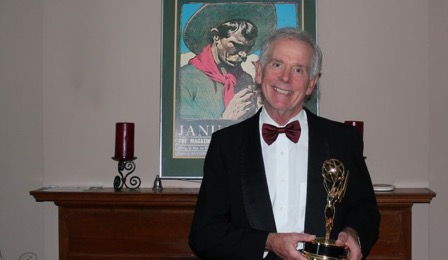 Congratulations to Show-Me Missouri columnist John Robinson on capturing a Mid-America Emmy award from the National Academy of Television Arts and Sciences.

John and his car have driven every mile of every road on the Missouri state highway map. He's written two books about their adventures, and now a video highlighting their discoveries has won an Emmy.

"Mighty Confluence" captured the Mid-America Emmy award for Short Format Program, according to the National Academy of Television Arts and Sciences (NATAS), Mid-America Chapter. The Mid America Emmys were announced September 27 in Kansas City.

The Emmy-winning episode, part of the
Finding Wild Missouri
video series produced by the Missouri Department of Conservation, follows John and his car, Erifnus Caitnop, to the confluence of the Missouri and Mississippi rivers. The video series encourages Missourians to discover the state's natural treasures.

Robinson wrote
A Road Trip Into America's Hidden Heart
in 2012, and
Coastal Missouri
in 2013.

Show-Me Missouri Editor Gary Figgins chatted with John after the release of his first book, A Road Trip Into America's Hidden Heart.
Click here
to read the interview which first appeared in the Spring 2013 issue of Show-Me Missouri.

Be sure to watch "
Mightly Confluence
," the Emmy-winning video.

You can also follow John's adventures on his website at
JohnDrakeRobinson.com
.
September/09/2014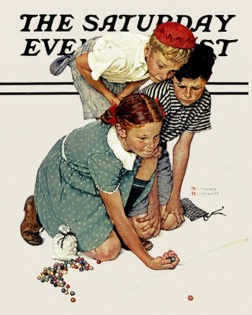 People with the inventiveness and willingness to create a living Norman Rockwell illustration are being sought in a collaborative project between George A. Spiva Center for the Arts and Mark Neuenschwander of 9art Photography in Joplin.
The project involves recreations of pieces from the exhibit
Norman Rockwell: 323 Saturday Evening Post Covers,
now showing at Spiva. Each recreation will be photographed by 9art and displayed at Spiva for public voting on the best re-enactment. The winning team will receive a Norman Rockwell prize package.
People wishing to participate may sign up through October 14 by contacting Spiva at 417-623-0183. The re-enactments photo shoot is set for 6 p.m. October 21, at Spiva. Costs are $25 per team with each team receiving one 8x10 color copy of the photograph.
Participants will select a piece from the exhibit and interpret it in any context desired, whether true to the illustration or with an approach that is modern day, ancient times, science fiction or any other interpretation. The only requirement is that the essential action and poses are the same. Teams will be responsible for all props, costumes and direction of the scene with 9art providing only the photography.
Norman Rockwell: 323 Saturday Evening Post Covers
will be on view at Spiva through Saturday, November 8. Organized by the Norman Rockwell Museum, Stockbridge, MA, the exhibit is sponsored by Sharon and Lance Beshore and Family with additional financial support from the Joplin Convention and Visitors Bureau and the Missouri Arts Council.
September/09/2014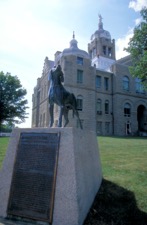 Did you know that dogs were first declared "man's best friend" in Missouri?


It was at the Johnson County Courthouse in Warrensburg that dog became "man's best friend" when those words were uttered by attorney George G. Vest during a trial following the shooting death of Old Drum, a black and tan hound dog that had been suspected of killing sheep. The shooting of the dog led to a civil suit filed by Old Drum's owner against the shooter.