July/07/2015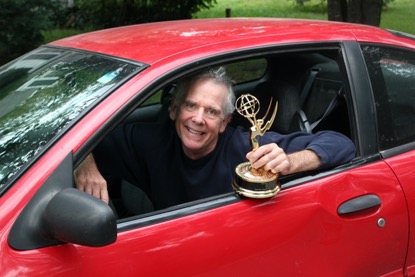 Emmy-award winning writer John Drake Robinson will be speaking Tuesday, July 28, at a free evening symposium sponsored by Show-Me Missouri, The Travel Magazine of Missouri.

Robinson is a columnist for Kennett-based Show-Me Missouri and is the author of two books, "A Road Trip Into America's Heart" and "Coastal Missouri". The two books are "on the road" adventures that blend local characters and mom-and-pop food establishments into a archipelago of tasty stories.

In a bizarre experiment that lasted 13 years, Robinson traveled every mile of every road on his Missouri state highway map, marking each mile off the well-worn map throughout his journey. Along for the quarter-million-mile ride was his trusty sidekick, Erifnus Caitnop, a 1999 Pontiac Sunfire that has logged nearly 500,000 miles. Together, the two have criss-crossed the State of Missouri, traveling more miles than the combined travels of Marco Polo and Magellan, Columbus and Zebulon Pike, Lewis and Clark and Dr. Livingston. His books, as well as his Show-Me Missouri column, are not travel guides, but are, instead, commentaries on life as he penetrated beyond the edges of civilization, peeked into the real American heartland and lived to tell about it.

Robinson captured a Mid-America Emmy award from the National Academy of Television Arts and Sciences for Short Format Program for an episode of Finding Wild Missouri, a video series hosted by him and produced by the Missouri Department of Conservation.

In the free Caruthersville event, audience members will hear about his journey and his unique commentaries on life in a humorous presentation. He will be available to meet with audience members and to sign copies of his books before and after the presentation.

The symposium will begin at 7 p.m. in the Baxter Southern Auditorium at the Caruthersville Public Library at 707 West 13th Street.