Globetrotter
August/08/2017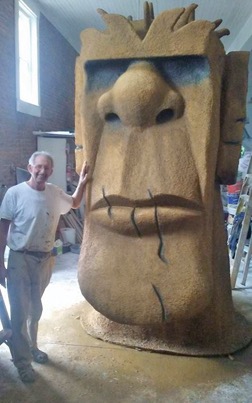 The Branson strip is an accumulation of creativity and peculiarity, qualities that are not mutually exclusive, mind you. The attractions and theaters bordering Southwest Missouri's most famous two-lane highway wrangle with each other to entice occupants to pull off the road and visit for a while.
Few who have been to Branson would recognize Brian Rance if they encountered him, although they would no doubt remember him after parting ways. The British native's sing-song dialect stands out in the Ozarks as much as the flashing marquees that illuminate the road that snakes its way from one end of town to the other. Most visitors, however, have seen his creations, which can be found along the strip and inside many of its theaters. His paintings and sculptures and designs can be found in many of the shows that bring visitors to the Live Music Capital of the World. While painting and murals are what he enjoys most, many of Brian's larger works can be found outdoors at an increasing number of non-musical attractions that appeal to the younger generations.
Most of the labor takes place in his studio, an old two-story brick building that sits across from the Stone County Courthouse in Galena, 30 miles northwest of Branson. Dust and fiberglass cover the floor and work tables, the result of hours of sanding, molding and painting. Two giant fiberglass seahorses stand sentry upon a wall, having returned to the confines of the studio following supporting roles in a stage production of "The Little Mermaid," a Disney-inspired musical. Disassembled sections of a colorful and realistic-looking coral reef rest nearby.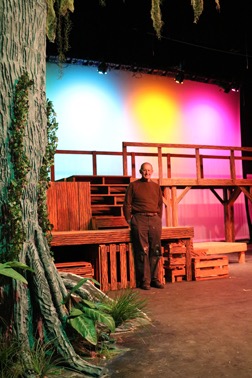 It was not in Galena...or even Branson...that I first met Brian three years ago. He had been summoned to Kennett to assist in turning our local high school stage into a swamp and castle for a production of "Shrek: The Musical." Twice more he made the six-hour trek across the bottom of the state to assist with our high school productions, becoming a celebrity of sorts in the local arts community.
Brian, in many ways, embodies today's political dialog centered around the masses that flock to the United States looking for a better life. Granted, his story differs from those that make the nightly news, but he is still, nonetheless, empathetic to those individuals who find themselves in a foreign land.
Born in Hertsfordshire, England, he studied at Yorkshire and Watford Colleges before going to work as a visualizer with a London newspaper. While driving through Portman Square one afternoon, he passed the construction of The Churchill, billed as London's finest hotel. He mustered the courage to inquire about producing some paintings for the hotel and was invited to submit samples. He received the commission, and at the age of 23, traded the security of his job to become a full-time artist.
He made first trip to the U.S. in 1974 to create a series of paintings for the Lowes hotels in New York. Upon completion, he set out on a journey across America, visiting every state, painting as he went. Four years later, he traveled to Central and, then, South America by bus and on foot, following the Amazon from its source in Peru and encountering peoples who had never before seen a white man.
According to him, "You can only appreciate how people live and work if you are on foot and mingling with them, doing as they do, enjoying their surroundings and their music."
Later that same year, he made his way to the Ozarks, where, for the past four decades, he has quietly helped create new worlds.