Blue Sage Restaurant, Hamilton
May 2016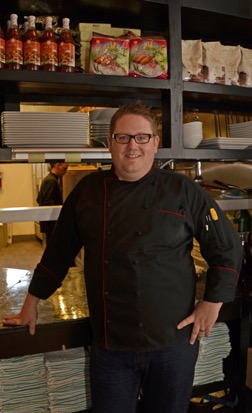 In the quilter's mecca of Hamilton, Blue Sage Restaurant is worth the trip, whether you quilt or not.
Opened in August 2014 and named after a midwestern wildflower, photos on the walls of the surrounding farmland reflect those roots. Executive chef Chad Rigby delights locals and visitors with his ever-rotating menu of contemporary American fare.
Rigby was lured from his executive sous chef position in Salt Lake City by a co-owner of Missouri Star Quilt Company, who persuaded Rigby and his wife, Taren, to pack up and put their culinary stamp on the tiny town of Hamilton, population 1,809.
"I like to start with classic dishes and add a twist, but still keep them familiar," says Chef Rigby. "It's fun to watch people try something new or different than what they imagined and enjoy it."
After my friend, Diane, and I browsed the quilt shops, we sat down to dine at Blue Sage. According to Rigby, with the exception of a few popular items, the menu changes quarterly. Blue Sage takes pride in serving from-scratch cuisine, cooked-to-order.
For starters, we chose the ever-popular pomme frites—perfectly golden-brown and seasoned lattice-cut fries topped with parmesan cream and chives. The scrumptious artichoke and lobster dip laced with asiago cheese and leeks. Even the bread and butter service was creative, served on a cured tree trunk with house-made blackberry-raspberry and honey butters.
Next we sampled the coconut berry salad drizzled with the restaurant's signature cinnamon vanilla dressing. According to Rigby, it will probably never leave the menu because of its popularity. It's often ordered topped with maple glazed Atlantic salmon or chicken.
Much of the summer produce is grown on Trammell Ranch, just south of Hamilton. Entrees reflect that local goodness. The flakey crust of the bestselling pot pie hid a velvety, vegetable cream sauce folded into roasted chicken and topped with garlic mashed potatoes and carrots—a satisfying rendition of this midwest classic. Rigby's beef stroganoff definitely pleased. Pan-seared beef, topped with cremini mushrooms and a roasted garlic and mushroom demi-glace was generously ladled over egg pappardelle pasta. And grilled salmon, drizzled with the fruity infusion of melted raspberry-blackberry butter, costarred with a side of fried fingerling potatoes topped with savory arugula tossed with sweet raspberry vinaigrette, diced apples, cranraisins and goat cheese.
To finish, the baked banana brulée and ice cream was simple, yet elegant—a banana sliced lengthwise and warmed in the oven, then sprinkled with sugar before a chef's torch caramelized the sugar.
And for those who want to take a taste of Blue Sage home, the restaurant is bottling its lauded cinnamon-vanilla dressing and raspberry balsamic reduction.
For more information visit
Facebook.com/bluesagedining
.