Norman Rockwell Covers Come To Life
September/09/2014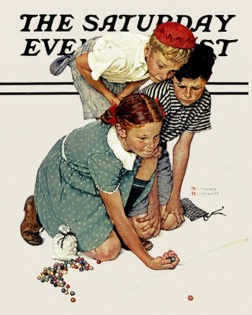 People with the inventiveness and willingness to create a living Norman Rockwell illustration are being sought in a collaborative project between George A. Spiva Center for the Arts and Mark Neuenschwander of 9art Photography in Joplin.
The project involves recreations of pieces from the exhibit
Norman Rockwell: 323 Saturday Evening Post Covers,
now showing at Spiva. Each recreation will be photographed by 9art and displayed at Spiva for public voting on the best re-enactment. The winning team will receive a Norman Rockwell prize package.
People wishing to participate may sign up through October 14 by contacting Spiva at 417-623-0183. The re-enactments photo shoot is set for 6 p.m. October 21, at Spiva. Costs are $25 per team with each team receiving one 8x10 color copy of the photograph.
Participants will select a piece from the exhibit and interpret it in any context desired, whether true to the illustration or with an approach that is modern day, ancient times, science fiction or any other interpretation. The only requirement is that the essential action and poses are the same. Teams will be responsible for all props, costumes and direction of the scene with 9art providing only the photography.
Norman Rockwell: 323 Saturday Evening Post Covers
will be on view at Spiva through Saturday, November 8. Organized by the Norman Rockwell Museum, Stockbridge, MA, the exhibit is sponsored by Sharon and Lance Beshore and Family with additional financial support from the Joplin Convention and Visitors Bureau and the Missouri Arts Council.