Buzz's BBQ & Steakhouse, Nevada
August 2017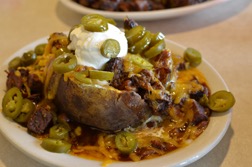 Barbeque is certainly king at Buzz's BBQ and Steakhouse, where customers have been coming back for more since 1999.
Filled with comfy booths under pendant lighting, this popular spot usually has a wait on most weekend nights. Throughout the restaurant, owner Jim Buzzard's memorabilia—fishing, baseball, vinyl records and dirt-track racing—takes patrons down memory lane.
Jim and his wife, Mary, started their culinary journey in Walker, Missouri, several miles east of Nevada. At the time, Jim was building high-performance racing engines for a living. Jim dabbled in barbeque while at the races and started smoking ribs near his mechanic shop. His hobby turned into Buzz's Mini Market and Deli. Eventually, they added a dining room, and people came from every state.
After 2006, the restaurant moved to Nevada. Its current and third location—bigger each time—conveniently sits directly off Highway 49 at Camp Clark exit 101. Three years ago, their daughter, Amy, and her military-career husband moved to town so that she could help with the ever-growing business.
Meats, smoked out back for hours using a secret blend of wood, are seasoned with a house-blended dry rub. Signature smoked pork ribs, made fresh daily in time for the lunch crowd, literally, fall off the bone. Savory brisket is slow-smoked overnight and cut on the thicker side. Delicious burnt-ends are caramelized with just the right amount of tenderness. And the smoked half-chicken quickly became one of my favorites. Sauces aren't made in house, but that's easily forgiven with the quality of meats. Other top picks include fried catfish, steaks, burgers and salads topped with smoked meats.
The "sleeper" on the menu became evident when the waiter brought out the Betty Baked Potato, named after a customer in Walker who routinely ordered the combination. Word got around, and it soon became a menu staple. What's not to love? It's a massive potato crowned with brisket (ham or pulled pork), barbecue baked beans, onions, jalapenos (optional for a less spicy dish), butter and sour cream on the side. At $10.99, this bargain makes tasty leftovers for those who can't finish. And if you're in the mood for fries instead, Betty Fries are topped with the same ingredients.
Sides include fried green beans with chipotle ranch dipping sauce, grilled veggie skewers, spicy corn-battered corn bites (somewhat like a hush puppy), breaded mushrooms, onion rings or fries. Barbecue beans combine chunks of burnt ends in a thick sauce. And unusual smoked cabbage is cooked with seasoned butter and served with cheddar cheese.
Carry-out and catering remains popular year-round. Groups of up to 70 people can choose a buffet or plated meal in the banquet room.
For more information, visit
Facebook.com/BuzzsBbq
.