Taveronna Italian Kitchen, Kansas City
May 2017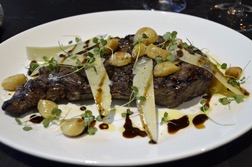 Just steps from Kansas City's Power and Light District, a cozy Italian spot is turning heads and intriguing palates at boutique Hotel Phillips.
Newly opened, Tavernonna Italian Kitchen showcases the inspiration of five-time, James Beard-nominated Chef Michael Kornick of Chicago and Executive Chef Bryant Wigger, who has returned to his Midwestern roots from the West Coast. Wigger spent 16 years working at Four Seasons Beverly Hills and other establishments. He's the linchpin of the stellar menu that serves breakfast, lunch and dinner.
Dinner was an adventurous affair in the sleek dining area surrounded by floor-to-ceiling windows. Classic Italian dishes delivered traditional comfort with noteworthy embellishments. Ingredients from local purveyors included Farm to Market Bread Company, fresh greens grown hydroponically at Missing Ingredient, an urban farm in the Crossroads, and beef from Hatfield Ranch near Marysville. However, the extensive wine list hails primarily from Italy and California.
"Recipes are traditional but with a twist to surprise our diners," says Chef Wigger. "Plus, we make our own pastas, sauces and ricotta."
Mouthwatering starters included bruschetta topped with fresh mozzarella, thyme-roasted mushrooms and drizzled with 12-year aged balsamic. Farm to Market rosemary bread came with lemon ricotta, quince marmalade and a sprinkle of sea salt. Baseball-sized Nonna's meatballs are 100 percent ground brisket presented on a pool of freshly made Pomodoro sauce.
Pasta spanned the gamut. Baked ziti al forno with house-made spicy lamb sausage, pecorino Romano and arugula pesto quickly became a table favorite. Spaghetti cacao e pepe featured scratch noodles subtly flavored with black pepper, sprinkled with pecorino cheese and served with a poached egg on top. Hearty rigatoni incorporated bite-size chunks of braised beef.
Absolutely outstanding, the grass-fed, Hatfield Ranch 17-ounce ribeye will hold its own with any steak in the city. Grilled to perfection with shaved parmesan and drizzled balsamic, the steak accompanied roasted whole garlic and rosemary fingerling potatoes. Worth every penny of the $49 price tag and generous enough for two. On the opposite end of the food chain, the whole Branzino, Mediterranean sea bass, flown in from Greece, came artfully plated with caramelized fennel and capers in a luscious, brown butter sauce.
To finish we chose, creamy gelato and sorbetto from local Glacé. For summer desserts, Chef is adding a moist olive oil cake filled with a slightly tart rhubarb compote alongside strawberry gelato.
After dinner, stroll through the Art Deco lobby with its green velvet couches, elaborate bronze and nickel metalwork, walnut paneling and stylish light fixtures. The grand staircase boasts the eleven-foot Goddess of Dawn, created in 1931 by Kansas City sculptor Jorgen Dreyer. On the National Register of Historic Places, the recent $20 million renovation combines 1930's elegance and design with modern amenities in the 216 guest rooms and public areas.
Don't miss the unassuming doorway to the right of the lobby's registration desk. Tucked away downstairs in a long-forgotten mail sorting room, P.S. Speakeasy is another 1930s incarnation. Plush seating and a cozy ambiance make the perfect spot to linger with a craft cocktail.
Valet hotel parking is complimentary for diners.
Visit
HotelPhillips.com/tavernonna
for more information.