Weston B&B, Weston
August 2017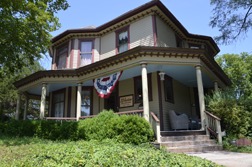 A world away but only 30 minutes from downtown Kansas City, the Weston Bed and Breakfast makes a welcome getaway.
Weston has become an artists' haven where tree-shaded streets lead to a main thoroughfare lined with boutiques, galleries and several top-notch restaurants. Add to that several wineries and the Holladay Distillery tour, and there's plenty to do in this charming river town.
Dick and Dotty Emery, both chiropractors by profession, bought the Victorian-era grand dame when they were living closer to Kansas City proper. Dotty had inherited antique furniture from her parents, which had been in storage for many years. It was time to sell or use it; the Emery's chose the former. Today, Dotty's favorite piece is a marble-topped light oak sideboard in the dining room.
"Our previous home was furnished Southwest-style, so we sold it all and bought this rather neglected 1895 house that would look great with our antiques," says Dotty.
Renovations began immediately, which included refinishing the original pine floors found under the green, shag carpet. The house contained original hardwood trim and beveled glass windows.
In 2005, the Emery's opened the bed and breakfast with two upstairs rooms. Eventually, they added a third room called the Celebration Suite. It's often reserved for special occasions. A private porch overlooks the yard, and the faux-painted barrel ceiling and bathtub alcove are truly unique.
"Initially we'd only planned to have the alcove faux-painted," says Dotty, "But the artist kept going, and, before we knew it, she was balancing on a board between the beams while painting the ceiling and faux pillars."
The two-bedroom cottage next door was acquired by surprise when the Emery's neighbor passed away and left the bungalow to them. Dotty enjoys flower gardening and, in season, brings blooms into the house and cottage.
In the mornings, coffee and tea, plus scrumptious cinnamon crispies from a secret recipe are served at 7 a.m. in the downstairs parlor. A three-course breakfast is served at 9 a.m. in the dining room or on the deck in nice weather. Recipes often come from local ladies who occasionally stop by with a new dish.
When my friend, Diane, and I visited for a girlfriend getaway, the main course was a sausage scramble, tossed red onions and halved grapes alongside scrambled eggs and mini hash brown casseroles.
After breakfast, we walked downtown for more shopping before heading back home. Just a note, do check store hours online, because many businesses are closed Mondays and Tuesdays.
Visit
WestonBedAndBreakfast.com
for more information.