Hawthorn Bed and Breakfast, Independence
May 2017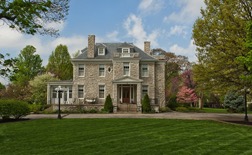 Beautifully constructed of Missouri limestone, Hawthorn Bed and Breakfast sits regally on two acres located near historic Independence Square. It's an easy ten-minute drive to downtown Kansas City and Kaufmann and Arrowhead Stadiums.
Owners Jim and Wendy Allen warmly greeted my husband and I upon check-in and showed us around the 8,500-square-foot mansion.
Built in 1900 by John A. Gallagher as the family's country home, it features hand-painted murals in the music room and two staircases—one for the family and the other for servants. The original ten-acre estate included a barn, pastures, livestock and numerous Hawthorn trees that inspired its name. The Gallaghers raised four children here, and Florence held socials for notable Independence women's groups. After John's death in 1923, she sold the property. Eventually, the mansion was used by the Westminster Presbyterian Church for 40 years.
After a restoration in 2000, Hawthorn opened as a bed and breakfast. Period furnishings, wicker on the cheery sunroom and wrought iron on the front terrace completed the renovation. Rooms were named in recognition of past owners.
In 2006, the Allens purchased Hawthorn. As avid travelers, they had stayed at B&Bs across the U.S and Europe. They added a $250 million expansion with a professional kitchen and owner's quarters in order to "totally surrender the mansion to our guests." The third floor Bibler Suite, their former living quarters, still contains personal items such as Jim's father's favorite chair.
"While we raised our children, I worked in human resources for 30 years. But I'd always wanted to run my own business," says Jim. "It was Wendy's desire to own an older home, so we fulfilled both of our dreams when we acquired Hawthorn."
Wendy lends her green thumb and creativity to the lovely landscaping and the many events held on site. Jim happily relies on his hotel and restaurant management background and passion for cooking that began as a boy when he learned to cook alongside his mother.
For breakfast, small tables in the dining room and sunroom offer privacy and individual service. Jim's three-course breakfast starts with a choice of six juices and seasonal fresh fruit topped with yogurt and granola. Next, the couple serves Jim's raspberry muffins—a closely guarded secret recipe. Entrées change daily and, during our stay, cheese and sautéed vegetable omelets came with sausage and Jim's seasoned potatoes like his mother cooked on the farm.
Guests often return several times throughout the year for Royals and Chief's games and other happenings. Hawthorn hosts about two dozen weddings annually, plus parties, teas and numerous luncheons and dinners for up to 40 people. At the holidays, Wendy lavishly decorates the house and guest rooms, including 18 Christmas trees, a nod to her New England roots.
Visit
HawthornBB.com
for more information.