Inn at Clover Hill, Sumner
August 2016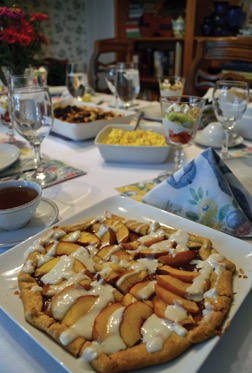 Inn at Clover Hill offers the chance to stay on a working farm—a rarity among bed and breakfasts today. Guests certainly aren't obligated, but part of the fun is participating in farm chores.

Owner Fred Carpenter, a former banker with an animal science degree from the University of Missouri, and his wife, Sherene, still run cattle and raise row crops on their 700 acres.

Guests can hop on the gator and tour the farm, help feed the sheep and cattle, check the cows and gather eggs. (I did all but gather eggs because a fox had killed the chickens several weeks prior. Fred assured me they'd have new chicks soon.) For the breakfast table, guests can pick blackberries, peaches, apples, pears and strawberries in season. Sherene loves to bake, and breakfast might include a fresh peach tart or blackberry cobbler and homemade jams.

"We have gentle livestock that people can get close to," says Fred. "We like to give property tours so that people can see the windmill, spring-fed wells and gardens."

Located between Chillicothe and Marceline, Fred's uncle originally owned the acreage and built the 1937 farmhouse. Fred was raised a quarter-mile down the road and helped on the farm. He bought it after his uncle passed away. When the Carpenters moved in, they converted the oil and steam heat to gas, added rooms and, eventually, remodeled the entire house. Decorated in an eclectic style with handmade quilts, the inn is comfortable and unpretentious, yet completely modern. Guests have access to the barbeque grill, large freezer and refrigerator.

"When our daughter got married in California, our family fell in love with the Sonoma bed and breakfast that we stayed in," explains Fred. "Since there weren't any other B&B's in our area in 2009, we decided to turn our home into one."

Early May through frost, 800 impatiens edge the sidewalk leading to the front door. They bloom in pinks, peaches and white—perfect for the 30-plus weddings that take place on the property each year. The adjacent Carriage House, the inspiration of Fred's first wife who passed away from cancer, sleeps up to 10. It includes a commercial kitchen, a large courtyard with speaker system, gardens and tables and chairs for 70 to 300 people. A tent can be set up for additional seating.

Guests enjoy visiting Marceline, Walt Disney's hometown, shopping for antiques or exploring Jamesport's Amish community. Near the end of December through February, approximately 100 eagles spend the day on the Carpenter's farm, literally, perched in the trees before roosting each night at a nearby conservation area.

Visit
InnAtCloverHill.com
for more information.