Gelbach Manor, Warrensburg
November 2017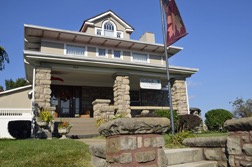 Besides a terrific location in the heart of Warrensburg, the drawing card of this craftsman-style home is its lovely backyard and patio.
In winter, guests can unthaw in the hot tub and, if weather permits, relax around the fire pit. Opening early in the season and closing in late-October, the heated pool boasts fountains, a slide and diving board. Guests can walk to downtown shops, restaurants and the Amtrak station. In the opposite direction, the University of Central Missouri campus and stadium lie several short blocks away.
In the early 1900s, the house was built for Margaret Maguire by her banker father. Margaret led a lavish lifestyle, and her home became a hub for Warrensburg's social life. Silent movie star Charlie Chan, who was born in Warrensburg as Sidney Toler and a close friend of Margaret, stayed here when he traveled to the Midwest. Married five times, Margaret left the house to her only child, Charlene.
Doug and Rhonda Gelbach purchased the sandstone property in 1988 and raised their children here. Doug, a general contractor, eventually built an extensive addition on the back with both guest and private spaces. In 2006, Gelbach Manor opened its doors as a bed and breakfast. Rhonda warmly welcomes guests and oversees the bed and breakfast, which is decorated in a formal, traditional style.
Leaded and stained glass windows and oak woodwork grace the original house. Three bedrooms on the second floor share a bath while a fourth on the third floor contains a private bathroom. Each room has a flat screen television, cable and wi-fi. Off the patio and pool, the sunroom invites lounging on the comfy couch with a flat screen nearby. Baskets filled with beach towels cater to guests. Rhonda enjoys gardening, which is evident in her lovely flower beds and additional wisteria-covered side patio with a porch swing.
As a licensed caterer, Rhonda whips up a hearty breakfast starting with fresh fruit, an egg and meat dish and a baked item like a cinnamon roll, homemade banana bread or muffins. She also likes to serve biscuits and gravy, waffles, pancakes or French toast. Homemade jams and preserves, such as triple berry or cherry from local fruit, round out the menu.
"My mom was an excellent cook, and I love to experiment in the kitchen," says Rhonda. "I really enjoy hosting and cooking for rehearsal dinners and showers."
The Manor can accommodate up to 50 people using both inside and outside seating."
Visit
www.
GelbachManor.com
for more information.