Village of the Blue Rose, Clarksville
May 2016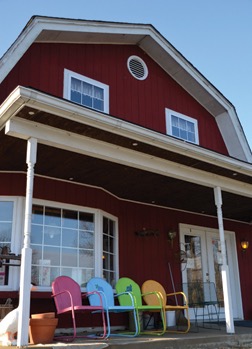 A lofty vision has created a unique experience at the Village of the Blue Rose.
Opened as a non-profit to support a small community of special education adults, the bed and breakfast allows its residents to work and make a living serving their guests.
Perched on a hillside with panoramic views of the Mississippi River, the 60-acre property lies between Hannibal and St. Louis. Buildings house six men and women who live on site and range in age from 30 to 50 years old. Guests can shop in the red barn filled with antiques, mainly glassware and small collectibles, and a tiny flea market stocked by donations with contemporary items.
Rose Gronemeyer, a retired special ed teacher from Sacred Heart School in St. Louis, helped mastermind the non-profit and oversees the village. The residents who run the bed and breakfast also participate in sports, dances and various activities in the surrounding community.
"When I was teaching, some parents would ask me, 'What's going to happen to my child once their education is complete?'" explains Rose. "So we began raising funds and eventually built the village."
The main lodge's three rooms include apartment-style accommodations on the lower level where my husband and I stayed. We had access to the common area with floor-to-ceiling windows, a burning fireplace, TV and DVD player plus a mini fridge, sink and microwave. It's a perfect spot for families. On the main level, there's a handicap-accessible bedroom and The Lodge restaurant. Upstairs, a spacious, loft-style room features a sitting area with terrific views. Outside the lodge, a fire pit, porches and pavilion are an added bonus.
The restaurant opens for lunch Wednesday through Sunday; dinner is served Friday and Saturday nights. Menus on each table allow diners to check off their choices. Residents take orders back to the kitchen, fill drinks and make sure customers are happy. Prime rib is always popular for dinner, potato cheese soup is a longstanding house specialty, and there's a daily special or two.
"People appreciate this peaceful place and the kindness of the residents who live and work here," says Rose. "It's a bonus that we have such a beautiful location. Our overnight guests can sit around the outdoor fire pit and enjoy watching the barges that travel the river."
Several annual fundraisers support this non-profit community. During eagle viewing season in January, "Soup and Chili Days" features homemade soups and desserts for a donation. In April, there's a fundraiser trivia night, and a dinner auction takes place in March in Wentzville. In September, "The Village Country Picnic" makes a fun family outing with pony rides, discounts on antiques, a silent auction and more. The Lodge serves barbequed pulled pork, hot dogs, grilled chicken and all the fixings.
Visit
VillageOfTheBlueRose
for more information.