Road Trip

Writer John Robinson's quarter-million-mile journey
across Missouri led to his discovery of the "real" America
by Gary Figgins, Editor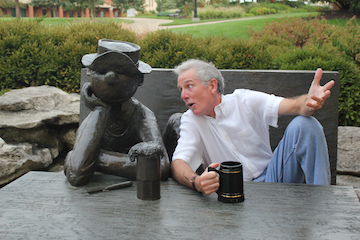 John Robinson has been around the block a few times...literally. His only companion, for the most part, was his 1999 Pontiac Sunfire (named Erifnus Caitnop...figure it out.) Together they criss-crossed the State of Missouri, traveling more miles than the combined travels of Marco Polo and Magellan, Columbus and Zebulon Pike, Lewis and Clark and Dr. Livingstone.
"The only difference between us and those other explorers," explains Robinson, "is that their amazing feats of bravery, skill and sacrifice changed the world. We just drove around. A lot."
Robinson, a regular contributor and columnist for Show-Me Missouri, has worn many hats over the years, beginning his career as a newspaperman and copywriter before entering the world of public service, climbing (or descending, depending on one's views of politics) to the position of deputy chief-of-staff to a Missouri governor and chief-of-staff to two lieutenant governors before taking on the title of tourism director for the State of Missouri. He has written columns for countless newspapers and magazines, developing a casual, witty style that reads like a conversation with a friend. It's a fitting tribute to the fact that he has never met a stranger.
Discovering he had a lot of time on his hands after leaving the Division of Tourism, he jumped head-first into completing a journey he began years earlier—traveling every mile of every state highway in Missouri. The lessons he learned on that 250,000-mile trip unfold throughout the pages of his book, A Road Trip Into America's Hidden Heart, an insightful glimpse of the "real" America that can only be found on the lesser-traveled backroads.
Show-Me Missouri sat down with the author to figure out how the idea originated and why it became such a passion.
SMM
: I suppose the obvious question is where would someone come up with the idea to drive every mile of every state highway?

JR
: I didn't wake up one day and decide to drive every road in Missouri. Back in the '90s, I was curious to see how many roads I'd actually driven. So I got out my map and started marking, started keeping track. At first, finding new roads was easy, because I hadn't traveled 90 percent of them. And we bounced around like a pinball over untraveled roads, our route looking a bit more like that of a roller coster or a bat than a car.
SMM
: I envision this grungy, crinkled, taped-up paper map that has survived 30-plus years. Obviously, you used more than one map, and you even mention that in the early chapters. How many maps did you actually go through?

JR
: I went through five maps, total, and all of them had tape on almost every seam. Even the tape split from constant folding and unfolding.
Along the way, my long history with Missouri's map got personal. It happened in a debate with highway map designers. See, on the flip side of the highway map are street maps of Missouri cities with more than 20,000 population. Problem is, tiny Branson didn't qualify for a street map, but each year a couple million vehicles visit this rubber tire roller coaster. I pleaded to put Branson on the flip side of the map. The highway department resisted. In my view, it's the highway department's most serious flaw—thinking like engineers, not travelers.
The Lake of the Ozarks ended up in the same boat. Several hundred thousand people stack like cord wood atop each other around its billion-mile shoreline. But no single community met the highway department's population threshold. Well, forget population, I urged, and look where the traffic goes. The highway honchos finally relented.
SMM
: Are you actually saying that someone at MODOT gave in to pressure?

JR
: After MODOT explained why they hold the line against more mini-maps on the reverse of the state map, I explained why it makes sense to help millions of travelers navigate Branson and the Lake of the Ozarks. MODOT added the maps. They're open to irrefutable proof.
SMM
: You may be the only person who still uses a paper map. I'm not sure you can single-handedly save the printed map.

JR
: I did save some perfectly good state highway maps from a shredder. Years ago, as tourism director, I stumbled upon a young intern shredding old Missouri highway maps. The maps were outdated—not because of the map—but because they contained a photo of a displaced governor.
"These are good maps," I told her, as I snatched a fist full of paper spaghetti out of the trash can. "We can use these to respond to requests from Canada and China and California and Lesterville, and other places where they don't care if we have a governor."
SMM
: MODOT should hire you as a consultant to help determine highway needs.

JR
: I'm relieved I've finished this project for the simple reason that the roads are becoming more dangerous. Oh, MODOT is doing a good job with what they're given. The roads aren't nearly as dangerous as the drivers. In a very informal unscientific sight poll, I can report that most drivers think they're either in front of a bathroom mirror or on the computer, rather than behind the wheel. I've seen shavers, eaters, lipstick appliers and cellular hellcats of course. But the most dangerous of all are the texters. It's really hard to tell sometimes if drivers are texting, since many texters hold their devices like they'd hide a beer can.
SMM
: This journey takes the nostalgia of Route 66 and seemingly bestows it upon "ordinary" highways throughout the state. Was that a concerted effort on your part during the writing, or was it something that was just obvious during your travels?

JR
: Route 66 has star power, and it usually gets top billing on any list of great roads. It's perpetuated every time you hear Bobby Troup or read Steinbeck. That's fitting, but a lot of Missouri roads are older than Route 66...they just don't go to LA. The stories...and the nostalgia...jumped at me from everywhere.
SMM
: Did you even try to keep up with expenses?

JR
: I estimate I spent about $8,000 on fuel, and ate more than 2,500 meals on the road. All without a sponsor. Near the end of the journey, I did start to engage Pontiac to see if they were interested in highlighting a car that had been everywhere, but then the news broke that Pontiac was folding.
SMM
: You do spend a lot of time eating in this book, yet, the only thing that has changed in the time I have known you is your hair. Why do you not weigh 150 pounds more?

JR
: My metabolism is like yours. The more I eat, the more energy I burn. But I also made sure to continue exercising daily, even on the road—especially on the road. My legs appreciated a good run or a stationary bicycle after being cramped behind the wheel for what sometimes turned out to be 600 miles a day.
SMM
: So, answer the age-old question. Who really has the best barbecue?

JR
: Best barbecue? First, let me say that I can count on one hand the number of bad barbecue experiences I've had. There are great shacks throughout Missouri. Having made that disclaimer, I still measure all barbecue against Strawberry's in Holcomb. But even within hog-callin' distance of Holcomb, there are world class barbecue joints...two up the road in Dexter.
SMM
: You didn't wake up one day and decide to drive every mile of every road in Missouri, so when did you decide to write a book about driving every mile of every road in Missouri?

JR
: The book idea started to evolve when I was more than halfway through my drive, when I knew I could finish this long journey. As my confidence grew that the end was in sight, I began to talk to reporters (USA Today, AP, St. Louis Post-Dispatch, NPR). Almost all of them reacted in the same way: "I've never heard of anybody doing something like this."
Actually I met one other person who drove every mile on Missouri's highway map. Walt Vandelicht, who's been retired for quite some time, drove every road during the time he worked at the Missouri Highway Department (yes, he worked there when it was called that.) It brings up an interesting dilemma. Do I continue driving the brand new roads they pave or reroute every year? So far I have. And my will instructs my children to strap the urn with my ashes in my car (yes, Erifnus Caitnop) once a year for a tour of the new pavement. I think that request probably guarantees my kids are rooting for me to live a long life.
SMM
: I have ridden in Erifnus, and, let's just say, she's not as young as she used to be. Would your personal journey have been affected had Erifnus just one day decided that her last mile had been traveled?

JR
: I'm glad that's a hypothetical. Erifnus is fine, just had a checkup. And she's headed toward half a million miles. But, yes, without her I would've finished this project on horseback or bicycle, or skateboard, if necessary.
SMM
: Obviously, a 180-plus page book does not include "every" mile covered. How did you decide what to include?

JR
: Deciding what to include in this first book was a series of torturous decisions. By its nature—a story about driving every mile—you tend to want to describe every scene, every story, or at least every town. But there are 700 main streets in Missouri, and although I've seen them all, a book about all of them would be torturous for the reader. Numerous publishers told me so, when I presented them a 1,000-page manuscript. They all suggested I cut the book by half, at least. A light bulb came on in my dim brain, and I set about the task of reduction. One result: Maybe some readers notice that this current book misses the wetter aspects of Missouri. That was part of my edit, and I plan to make up for it in the next book.
SMM
: Was there ever a time during this period that you questioned why you were doing this?

JR
: I still question why I did this. But I wouldn't trade my road experiences for anything, although my dad, before he died, told me, "John, you can take on more jobs that don't make money than anybody I've ever known."
SMM
: You met a lot of colorful characters over the years. Did you ever find yourself in the midst of the cast from Deliverance?

JR
: I often heard banjo music. But you know, when in banjo land, pick up a bass fiddle and slap along. I had some of the best times in places where most people would feel vulnerable. But, then, I grew up in banjo land.
SMM
: We were glad you remembered the Bootheel (where we are based) in your journey. Do you believe the story of the origin of the Bootheel, or do you think alcohol was involved in drawing the state line?

JR
: Both. Influencing Congress and providing alcohol are not mutually exclusive.
SMM
: Now that you have completed the "task" of driving every highway, which stretch or stretches of highway would you most likely revisit on a leisurely trip?

JR
: I have a dozen favorites. But for my own personal leisure, I get closest to Nirvana along Highway 19 from Cuba all the way to Grand Gulf. I usually base at River's Edge Resort on the Jack's Fork in Eminence.
Read more of John Robinson's travel stories at
JohnDrakeRobinson.com
. His books,
Coastal Missouri
and
A Road Trip Into America's Hidden Heart
are available at independent bookstores and online booksellers everywhere.