The Tuscumbia/Beverly Hills Pipeline
August 2016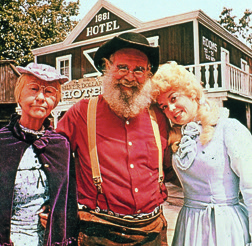 On a hilltop overlooking the Osage River, a part of your history sleeps. And I'll wager a fancy leather lunchbox full of Texas tea that most Americans probably have spent more hours absorbing this history than they did learning about Osage Chief James Bigheart or the slaughter of the bison in Missouri.

Most locals can tell you about this unique history, spawned by Tuscumbia's most famous permanent residents. You might not know them, but you know their stories. On the edge of town, Paul and Ruth Henning sleep the eternal sleep. They're in Tuscumbia Cemetery now, their unassuming gravestones in the shade of a giant cedar tree. There's no pronouncement carved in granite that "Here lie the maw and paw of the Beverly Hillbillies."

But their stories live on in celluloid. Although they made their mark in Hollywood, they made their final resting place in the land that produced the rich fabric of their stories, some of them only a stone's throw from this plot.

Ruth grew up here, and when she got a job at a Kansas City radio station and met her city-boy beau Paul, she enriched his life with her rural stories.

As a fledgling songbird at KMBZ, Paul's television hits were still over the horizon—and might not have happened at all if it weren't for two important life choices.

His first key decision came after a brush with greatness. He was a child when his family moved from his Blue Ridge, Missouri, birthplace to nearby Independence. As a student at William Chrisman High School, Paul earned extra money as a soda jerk in the hours after school. There's a legend around the Independence square that back in 1929, Harry Truman sat at the soda fountain at Pendleton's Drugstore and offered advice to Henning: "Become a lawyer."

Henning went to law school. But his heart followed another script, a path that led him to KMBZ, where he met the love of his life. Ruth Barth was a young singer who shared a microphone with Paul in those days of live radio theater.

That was Paul's second important choice: He focused on Ruth. They eventually married, and like all good husbands, he listened to her stories and her advice. She became his inspiration and perhaps the biggest reason for his sitcom success. Many of Paul's television scripts spring from the Miller County hills where Ruth spent much of her childhood.

Case in point: Hooterville sprouted from Paul's mind, inspired by Ruth's childhood memories.

If the Hooterville sisters' names ring a bell—Billie Jo, Bobbie Jo and Betty Jo—you're already familiar with my home town of Eldon, just down the road from Tuscumbia. The long-running TV tandem Petticoat Junction and Green Acres got much of their inspiration from a hotel in Eldon, where the old Rock Island railroad would deliver Ruth for summer visits. There, Ruth and her summer girlfriends engaged in the time-honored art of attracting boys.

Of course you can sing the words to Paul Henning's most famous song, "The Ballad of Jed Clampett."

Not only did Henning write "The Beverly Hillbillies" themesong and create the TV spinoffs "Petticoat Junction" and "Green Acres," his very first TV hit has roots in Missouri, too. The Bob Cummings Show featured a trendy photographer who migrated to Hollywood from Joplin, Missouri.

Throughout his television career, Henning produced a gusher of scripts with more footprints in Missouri than a cement pond full o' possums.

As I stood beside their graves, it struck me that more people have formed their impressions of Ozarks hill people from Ruth and Paul and their Beverly Hillbillies, than from any history of the region. That's not surprising. Most people get their knowledge of classical music from Looney Tunes.

Read more of the author's stories at
JohnDrakeRobinson.com
. His books,
Coastal Missouri
and
A Road Trip Into America's Hidden Heart
are available at independent bookstores and online booksellers everywhere.