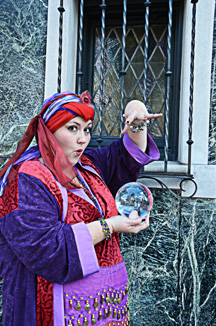 It's unusually warm for a late-October morning as families meander along the brick sidewalks that flank the similarly-paved street stretching the length of the St. Charles' historic district. The Missouri River traces the city's eastern edge, looking much the same as when Lewis and Clark cast off to explore the nation's newly-acquired western territory more than 200 years earlier. Except for the casino that towers above the south end of the historic district—and the cadence of vehicles bouncing across the red bricks—those clinging to the remnants of a long summer could have easily been transported back to the Victorian Age.
A tall hooded man hunches over a cane, stopping to greet a mother pushing her child along in a stroller, another child clinging to her arm. The children glance up at the lumbering figure, not quite knowing how to react to this unfamiliar figure. Igor's master, Dr. Frankenstein, is nowhere to be seen but there are plenty of other unsavory characters walking the streets. With her crystal ball in hand, Madame Esmeralda bedazzles those around her as she gazes into her crystal to catch a glimpse of the future. Ichabod Crane, the ill-fated school master from Washington Irving's classic ghost story, nervously makes his way along the streets forever on lookout for the Headless Horseman. The Gingerbread Witch reminds children not to take candy from strangers, but she is far more compassionate here than she was when confronting Hansel and Gretel.
Nearly two dozen other characters with sinister backgrounds roam the 14-block historic district, beguiling anyone they encounter during the city's Legends and Lanterns Festival. The event, launched last year as a way to bring visitors to the historic district during the weekends leading up to Halloween, is anchored in history in much the same manner as the city's other major event, Christmas Traditions. In fact, despite the obvious difference in holidays and seasons, the two events have a lot in common. Both events utilize costumed characters to build a seasonal atmosphere steeped in historic culture.
Subscribe today to read more!