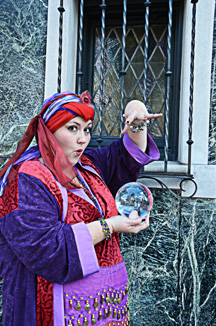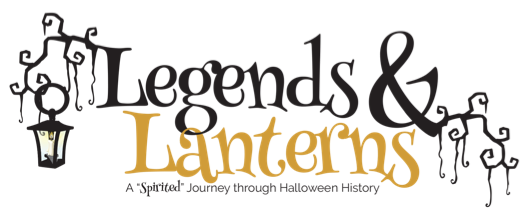 It's unusually warm for a late-October morning as families meander along the brick sidewalks that flank the similarly-paved street stretching the length of the St. Charles' historic district. The Missouri River traces the city's eastern edge, looking much the same as when Lewis and Clark cast off to explore the nation's newly-acquired western territory more than 200 years earlier. Except for the casino that towers above the south end of the historic district—and the cadence of vehicles bouncing across the red bricks—those clinging to the remnants of a long summer could have easily been transported back to the Victorian Age.

A tall hooded man hunches over a cane, stopping to greet a mother pushing her child along in a stroller, another child clinging to her arm. The children glance up at the lumbering figure, not quite knowing how to react to this unfamiliar figure. Igor's master, Dr. Frankenstein, is nowhere to be seen but there are plenty of other unsavory characters walking the streets. With her crystal ball in hand, Madame Esmeralda bedazzles those around her as she gazes into her crystal to catch a glimpse of the future. Ichabod Crane, the ill-fated school master from Washington Irving's classic ghost story, nervously makes his way along the streets forever on lookout for the Headless Horseman. The Gingerbread Witch reminds children not to take candy from strangers, but she is far more compassionate here than she was when confronting Hansel and Gretel.

Nearly two dozen other characters with sinister backgrounds roam the 14-block historic district, beguiling anyone they encounter during the city's Legends and Lanterns Festival. The event, launched last year as a way to bring visitors to the historic district during the weekends leading up to Halloween, is anchored in history in much the same manner as the city's other major event, Christmas Traditions. In fact, despite the obvious difference in holidays and seasons, the two events have a lot in common. Both events utilize costumed characters to build a seasonal atmosphere steeped in historic culture.

"All of us involved in Christmas Traditions have joked that we should do Christmas all year," says Ryan Cooper, the creator of Legends and Lanterns. He explains that while the idea of building a Halloween-centered event has been tossed around for several years, it really never took flight until last year. When St. Charles Convention and Visitors Bureau Director Joe Ward expressed an interest in creating another event on the Christmas Traditions foundation, Cooper was tasked with creating an outline.

"I wrote up a three- to four-page treatment of what a Halloween event would be," Cooper explains. "Pretty much all aspects of what we ended up doing with the festival evolved from that treatment. It's eerie, mysterious and very atmospheric."

Just as Halloween, itself, was born of Victorian traditions, so, too, is Legends and Lanterns. A Victorian Mourning Museum, located in the Historic Katy Depot, explores the numerous Victorian traditions revolving around the remembrance of loved ones. Until the advent of funeral parlors, family and friends mourned the loss of loved ones in the home of the deceased.

"It was very theatrical back then," says Cooper, explaining that social etiquette established everything from funeral fashion to length of mourning. "Grieving eventually became a big business."

The temporary museum includes exhibits on fashion and iconography and symbolism on Victorian tombstones. New this year is a study of mourning in popular culture.

The characters roaming the historic district are both performers and historians, enchanting visitors with often amusing tales of their characters and the traditions associated with them. The actors portraying them are more than individuals in costume, however, as many of them have connections to community or professional theater. Cooper, himself, portrays Jack Frost during Christmas Traditions, focusing his theatrical talents on a funny and believable depiction of the ice-cold mischief-maker. Cooper has been involved in theater for years and even had the opportunity to work at Walt Disney World. Because the character performances are improvisational, cast members are selected far enough in advance to allow them time to create characters who can believably interact with visitors. After being cast in early-June, many of the actors participate in character workshops, learning minute details such as backgrounds and accents. The early casting also allows for the creation of realistic custom-made costumes.

Visitors to Legends and Lanterns can obtain a passport that includes photos and biographies of each character as well as themed activities associated with each individual. Each costumed character offers stickers to apply to his or her passport page, providing an incentive to meet every character. Activities such as mazes, word searches and recipes offer a reason to take the passports home for more fun beyond collecting the stickers.

Visitors can participate in a "straw poll" to select the best scarecrow in Scarecrow Glen at Kister Park on the riverfront. Kids can have their faces painted for free in Dia de los Muertos Plaza, and free hayrides provide a journey through Halloween history. A performer on each 10-minute ride will point out Main Street's own paranormal history.

"Main Street is really our star for this event," says Cooper, explaing that organizers wanted to include its supernatural points of interest.

The weekend before Halloween will feature a pumpkin glow.

Cooper points out that while children can attend this family event in costume, this is not a trick-or-treating activity. Merchants on Main Street will host trick-or-treaters Halloween night.

Visit HistoricStCharles.com for more information.


For more than 20 years Show-Me Missouri's team of professional travel writers and photographers have provided readers with the opportunity to explore nearly every square mile of the Show-Me State . It's the next best thing to being here.
SHOW-ME MISSOURI
P.O. Box 53
Kennett, Missouri 63857

Toll-Free: (888) 751-6334
Local: 573-888-1100
Email: info@showmemissouri.net
Click here to subscribe and receive four issues per year of THE travel magazine of Missouri.